Well I decided to create a bot for everyone to PYPQ in the meantime while the bypass is being updated. It does not require a bypass since it only sends keystrokes and packets. I've tested everything and it works flawlessly. I also added a feature that auto cc if you can't go inside the pyramid. Well have fun and enjoy.
v.1.5 Changelog
- Added more settings for Auto Move UA (by request)
- Added Attack Count (will appear when you enable Auto Attack)
- Modified the Settings GUI
- Added option to stay on top
- Renamed Auto Skills to Auto Buffs
Screenshot of bot: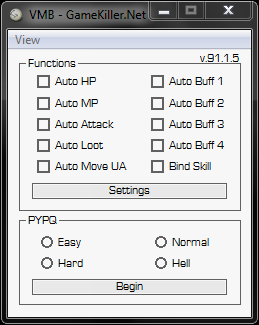 Screenshot of settings:
How To Use:
- Download the necessary patchers for PYPQ here.
- Download an injector here.
- Create a shortcut of GameLauncher.exe from your Nexon folder to your desktop.
- Run GameLauncher.exe and press Start Game.
- At the GameLauncher screen, run your injector (Win Vista/7 must run injector as administrator)
- Inject VMB v1.5.dll to MapleStory.exe (some injectors detects MapleStory.exe automatically)
- Close your injector and start the game.
Using PYPQ:
- Make sure you're in the map outside of the pyramid entry.
- Select the appropriate mode.
- Click begin.
About Auto Move UA & Pivot Attack:
Auto Move UA will automatically set MapleStory in the foreground window at 98 attacks (by default) so it can move your character to reset the attack counter. It is also known to press the 'K' and ';' key while moving, so you will need to move them out of the way.
Pivot Attack is when your character attacks after the initial movement from Auto Move UA.
Using Bind Skill for Double/Triple Swing:
- Tick Bind Skill (Do not move your character or you will crash!)
- Open the keys configuration in MS
- Open skill list
- Drag double/triple swing to a hotkey
- Untick Bind Skill
** It is recommended to set the Attack Mobs Limit to 1 or higher so your character won't spam the attack key outside the pyramid. **
If you experience any injection problems, visit my other thread here and look under the "Common Problems" section.
Credits:
rod143 and Vu
Download:
[You must be registered and logged in to see this link.]
or
[You must be registered and logged in to see this link.]
Virus Scan: VMB v.1.5.dll Virus Total :
[You must be registered and logged in to see this link.]